Invitation to a portrait shoot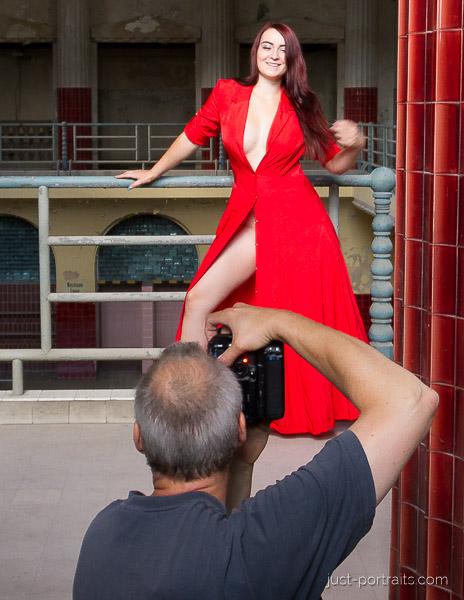 Taking pictures in portrait photography always takes two. One person behind and one in front of the camera, otherwise it won't work ... :)
And so I am always looking for people who have fun in front of the camera. I already promise a relaxed shoot in a pleasant atmosphere. There is definitely no stress or pressure with me. The focus is always on having fun.
Since I live in Leipzig, I of course also prefer shootings in the region, i.e. the greater Leipzig area (roughly 100 km radius). However, I am also in Essen quite often, so I can also do shootings in the Ruhr area. If in doubt, just let me know if you are interested!
A few small framework conditions
First of all, as the question keeps coming up:
I am not particularly interested in numbers and data such as dimensions, for me the overall visual impression is decisive. If you have camera experience, that's great, but that's not a condition! I really enjoy having people in front of the camera who have little or no experience. Models with a lot of experience and lots of shoots are just as welcome! Anyway, I am happy about creative people who can act independently in front of the camera.
This is important to me:
You are at least 18 years old and primarily female.
You enjoy being in front of the camera.
You are reliable and stick to agreements.
Of course, you will also receive professionally edited photos from the shoot for free use.
I focus completely on the model's recording areas!
So either we shoot:
portrait (based on TFP ["time for pictures"], means, the model will get edited pictures) or
portrait to partial nude (on a PAY basis, the model receives a fee) or
portrait to classical nude (on a PAY basis, the model receives a fee)
---
At the bottom of this page you will find two making-of videos. I think that will give you an impression of how a shoot like this works for me.
As for the location, I'm open. I know a lot of nice places for outdoor photography, but also a few rental studios in Leipzig. You are also welcome to make suggestions. In any case, we will coordinate the location together.
And two more important points:
An accompanying person is no problem at all! On the contrary, I am happy to have a helping hand and if someone is with me, they can also count on being handed a camera to take making-of pictures for us. :)
A contract is self-evident, you can find it here: model release
---
Are you interested in a shooting?
I would be very happy! If the above is suitable for you, please fill out the following form and submit it.
---
How does a shoot work for you?
This question is also often asked. Please watch the two videos, I think they answer them best:
Making of a portrait shooting in Grimma. (Model: Franzi Video: Sebastian Deim)
& nbsp;
Making-of a portrait shoot in Leipzig and Beucha. (Model: Ewelina Video: Franziska Pötzsch)